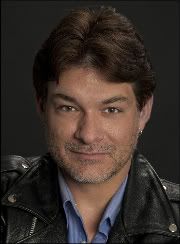 Who are you?:
My name is Ted Alderman and I am an actor and stuntman. Also from time to time make films, I own Wicked Dreams Entertainment, but prefer acting more. Being behind the camera is a headache!!! :)
1) What are the top two questions you're sick of being asked - and, their answers?
Have you ever been told you resemble Patrick Swayze? and Are you related to the Swayze family? I say, yes ever since Dirty Dancing first came out when I was in High School, even though I really don't see it. And no, but I wished I was related to him. He was a great person and I really wanted to meet him before he left this world. He was one of the inspirations for me to start acting.
2) Are there any dumb questions out there? Or, is it true that there are none?
Well... once being in the National Honor Society and field medic in the military I would have to say that there isn't any dumb questions. BUT as a human being... it may only be that it's confused people asking confusing questions?!?!?!
3) Do you think tan lines are sexy?
I prefer females with an all over tan... I don't think there is anything sexier than that!!!
4) Do you consider yourself a 'phone person?'
No... I'm a person to person type of communicator.
5) Rollercoasters - are you just a line buddy or a coaster warrior?
Definitely a coaster warrior!!! I use to work at Six Flags north of Chicago and we use to ride one of the rides with either the bar that locks you in loose and even rode it backwards. I'm still in search of a coaster that actually scares me!!!
6) Do you consider yourself more of a country or city person?
City person!!! I'm from Mississippi and it's such a small area that it's boring and dull. I love big cities cause there are so much to do and with my mind, I get bored with things very fast so it needs new things to keep it intrigued.
7) Is there a number or specific time of day that haunts you on a daily basis?
Not anything that I can really think of at the moment.
8) Have you ever been ramen noodles every dinner or dish soap for laundry soap kind of broke?
Yes... when I was in the military and the first time I lived in California, the government had messed up one of my pay checks and it put me so far in a hole that it took them 9 months to straighten it out. Because of the mistake I was late on rent and other bills that I only ate ramen noodles or hamburger helper for a few months.
9) Do you still own an address book/book with written addresses and phone numbers?
I do have a notebook that I have names, addresses and phone numbers in. But it's a backup for just in case my iPhone crashes and I lose all my contacts. :)
10) How do you feel about grammar?
I don't know. I'm not a huge critic about it.
Shameless self promotion/shout outs/any last words:
My site (www.TedAlderman.com) is a little outdated but I'm currently looking for acting gigs and have my reel on Youtube (www.youtube.com/watch?v=GHflBsC_IQo) and my Facebook page (www.Facebook.com/AldermanTed). Have a look!! I love traveling and always have a great time working with new people. Wait a minute didn't I hear they're making a film based on Patrick Swayze's life.... Ummm I'm game and I'm also a martial artist and dancer!!! :)